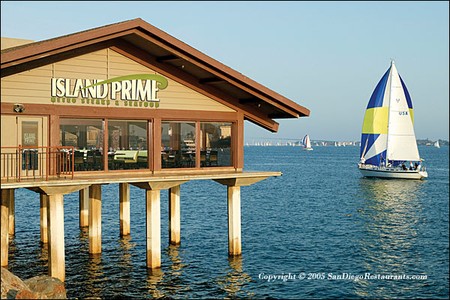 Just before my boo left for Virginia to do his Military Sealift Command training, we visited Island Prime restaurant. Thankfully, I had won a $100 gift card at work so we were prepared to indulge!
First of all, Island Prime is located on Harbor Drive, overlooking the bay and all of Downtown San Diego. If you're there for a romantic evening or special occasion, I suggest you go just before sunset and sit by the window so you can take in all the charm and beauty of our beautiful sunsets here in Southern California.
Island Prime's wine list is huge! We didn't know where to begin. Matthew had an Australian shiraz and I, of course, started with champagne. Their menu is not big at all, but kind of tricky since their beef entrees are served a la carte. In other words, any side dishes are extra. One thing I particularly liked about the restaurant was the service. It was quite impressive and all the servers were very attentive. Also, instead of bread, everyone gets popovers. I mean, when was the last time you had a popover? And they were quite delish.
As you can imagine, this place is quite pricey. We shared their crab and avocado stacked salad with taro chips (so good!); Matt ordered a steak and I ordered their seared scallops with hazelnuts and parmesan risotto (the risotto was amazing!). We each had two glasses of wine or champagne and the bill came out to just under $140. Thank goodness I had the gift card! This place is great for a date, anniversary, or special birthday and I highly recommend their crab and avocado stack. Island Prime also has a lounge called C Lounge, and you can get the appetizers and drinks for a more reasonable price--especially if you go during happy hour.